Volume 24 -- Issue 1
January 2018


Welcome to this issue of Qué tal. Here you will find useful observing information about the visible planets, our Moon and other moons, the Sun, as well as various 'things' celestial.
Among these web pages you will find monthly star maps for either the northern or southern hemisphere that are suitable for printout. Animated images are utilized to illustrate celestial motions such as orbital motions of the planets, and other solar orbiting objects, or apparent and real motions along the ecliptic and the local horizon. Regular features include plotting the monthly positions of the visible planets using heliocentric coordinates; following moon phases; conjunctions; the sun's apparent motion and the Earth's real motion along the ecliptic.



For additional observing information and other useful Earth and Space news posted several times each week follow my WordPress Blog at bobs-spaces.

At A Glance: Welcome to this issue of Qué tal.
This month the planet viewing shifts to the morning skies with Jupiter dominating the pre-dawn skies. Look a little lower (east) for the 'Red Planet' Mars. Both planets are near the center of the balance bar of Libra the Scales. Look left or right from Jupiter to see my favorite star names, Zubenelgenubi and Zubeneschamali.
Mars is steadily moving eastward and toward early next month Mars will be approaching Saturn and Mercury. The latter two, also visible as morning planets this month, have a close conjunction on the 12th, and then the two are joined by the thin 28-day old waning crescent Moon on the 15th.
Venus is at superior conjunction, on the opposite side of the Sun, and will not be visible as an evening planet until at least early March.

This month is the first of two months this year where there will be two full Moons, aka "Blue Moons". March is the other one.
And the 2nd full Moon this month is also a total lunar eclipse.
(Click here to see a short animation showing the an animated graphic of the view from my latitude and longitude - as the eclipsed Moon is setting.
Or see the link below for information about the eclipse for where you live.)

E-Mail Starwalk -- Previous Issue
Privacy Statement -- Credits & Some Particulars
Site Map



-.-. .-.. . .- .-.  ... -.- .. . ...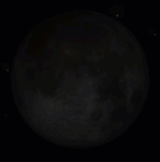 Total Lunar Eclipse 31 January 2018
What will the total lunar eclipse look like from where you live?
Click
here
to go to the
Hermit Eclipse
web site to find out.