Graphics manipulation -
Photoshop Elements
;
Snag-It
; and
Ulead GifAnimator
.
HTML coding and editing done with the
CoffeeCup
HTML
Editor v15.4
to modify a template made with
Sky image displays, charts and animations created using
Starry Night Pro Plus
.
The information on this web site or at bobs-spaces.net may be reproduced for classroom use; inclusion in another newsletter, or linked with another web site, without written permission. Any other use may require written permission.
Qué tal? in the Current Skies © 1995-2018 Bob Riddle - Starwalk, Inc. 1021 S.E. 7th Street. Lee's Summit Missouri. 64063 USA. Latitude: 38.905597oN ; Longitude: 94.355554oW.

Bob is now in retirement mode after most recently working as a Special Education Paraprofessional in a High School Life Skills Classroom. Bob and his wife Sue are empty-nesters living in Lee's Summit, Missouri.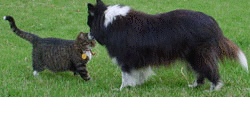 They share their home with Chloe the wanderer cat, and Sebastian, Tyler and Heidi.
My Resume (pdf).

Disclaimer: Any use of this newsletter, in any manner whatsoever, will increase the amount of disorder in the universe. Although no liability is implied herein, the reader is warned that this process will ultimately lead to the heat death of the universe.